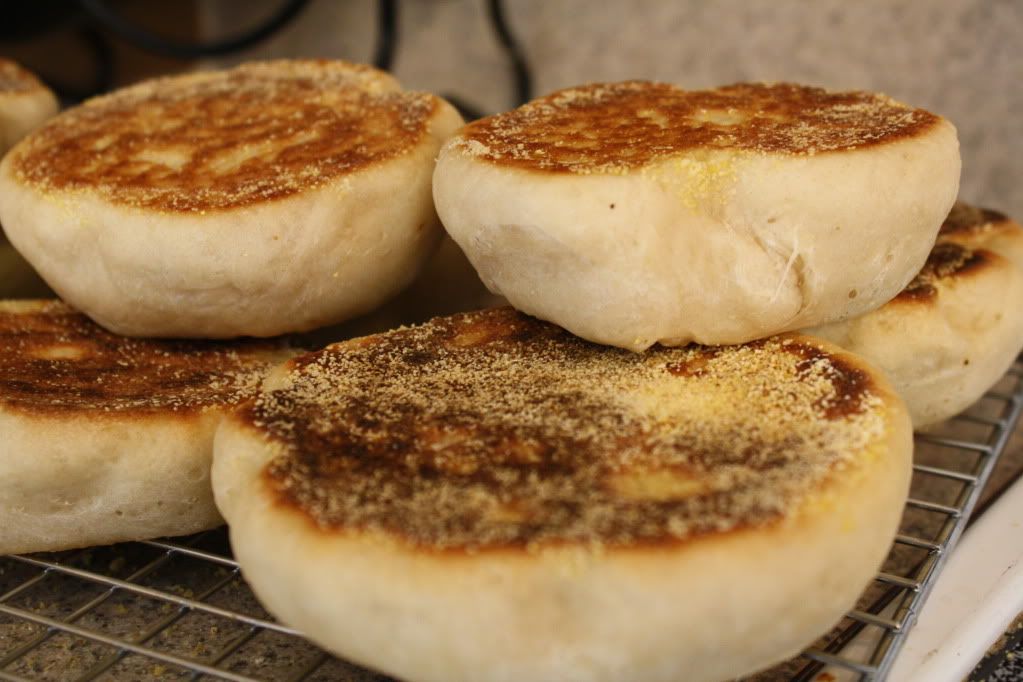 I made these years and years ago, before I moved out on my own for good. I have no idea what I did with that recipe but I remember them being good. This one involves a couple more steps than I remember - although my memory ain't what it used to be:-)
When I saw that this makes 6, I went ahead and doubled the batch so we could freeze some.
Recipe directly from
Annie's Eats
Ingredients:
2 1/4 cups flour
1 1/2 tsp. sugar
1/4 tsp. salt
1 1/4 tsp. instant yeast
1 tbsp. butter, at room temperature
3/4-1 cup milk, at room temperature
Cornmeal, for sprinkling
Directions:
In the bowl of a stand mixer fitted with the paddle attachment, combine the flour, sugar, salt and yeast. Mix in the butter and 3/4 cup of milk. Add just enough of the remaining milk to form a dough and incorporate the dry ingredients. Switch to the dough hook and knead on low speed, about 7-8 minutes. Transfer the dough to a lightly oiled bowl and roll to coat. Cover the bowl with plastic wrap and let rise for about an hour.
Divide the dough into 6 equal pieces and shape into balls. Lay parchment paper on a baking sheet and spray or coat lightly with oil. Sprinkle with cornmeal. Move the dough balls to the baking sheet, spacing them evenly with room to rise. Cover the pan loosely with plastic wrap and allow to rise another hour.
Preheat the oven to 350 degrees F. Heat a skillet on medium heat on the stovetop. Brush the skillet lightly with oil and gently transfer the dough balls to the skillet a few at a time. Allow them to cook for 5-8 minutes or until the bottoms are lightly browned. Carefully flip and cook the other side for 5-8 minutes more. They should flatten as they cook.
Remove the muffins from the skillet and transfer them to a parchment- or silpat-lined baking sheet. Bake in the preheated oven for 5-8 minutes. Do not wait until all the muffins have been browned in the skillet before moving them to the oven. As the first batch is baking, move the second batch to the skillet.
Transfer the baked muffins to a cooling rack and let cool at least 30 minutes before slicing or serving. Store in an airtight container.