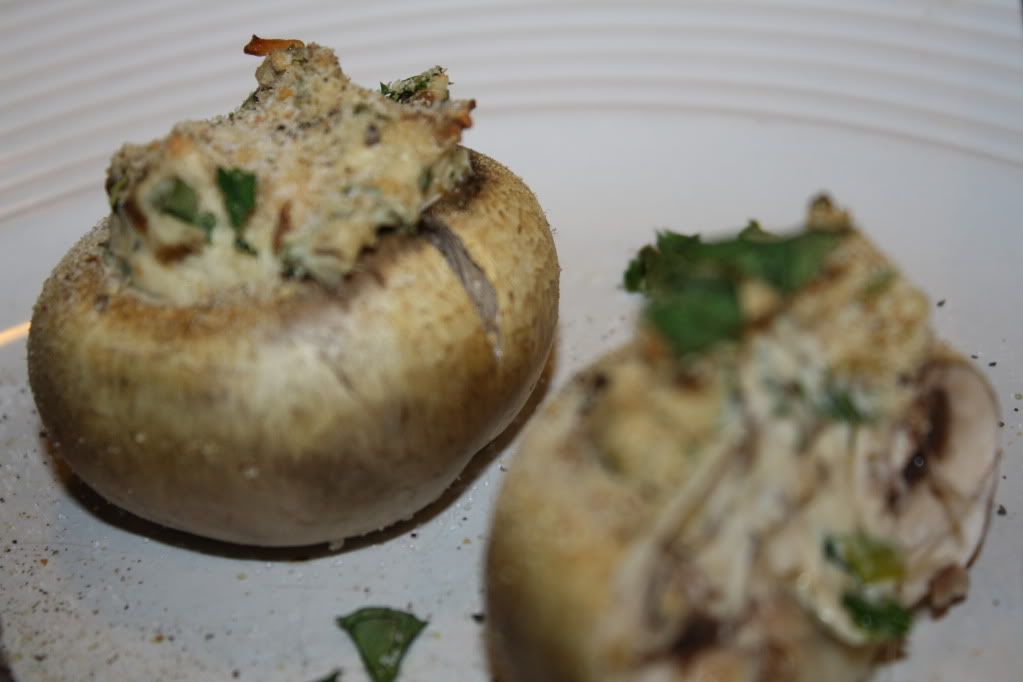 I had to try this stuffed mushroom recipe. It was easy and didn't involve too many ingredients that weren't on hand already.
I did quite a bit of adjusting to the amounts here, I only needed enough for me. I used six large "stuffing" mushrooms, 2 cloves garlic (which I promptly burnt and had to pick the dark pieces out!), 1 green onion, and guessed on everything else.
I don't have a food processor, so I had to mince everything by hand. Otherwise, everything was made per the recipe. Oh yeah, I forgot to hold out the parsley for garnish as well and only had dried thyme. With all of these changes, these were still pretty good! So please try these:)
Recipe from
Baked Bree
24 mushrooms
2 shallots
4 cloves garlic
1/4 cup white wine
8 ounces cream cheese at room temperature
1/4 cup Parmesan cheese
1/4 cup breadcrumbs
salt and pepper
1 teaspoon fresh thyme
1/4 cup flat leaf parsley chopped
Wipe the mushrooms off with a damp paper towel. Remove the stems and save them. Put the mushroom stems, shallots, and garlic in the food processor.
Pulse until it is finely chopped.
Saute the mushroom and shallot mixture in a large saute pan over medium high heat with 1 Tablespoon olive oil. Cook until the shallots are transparent and the mushroom begin to caramelize, about 5 to 7 minutes.
Add the white wine and let the wine cook out. Set aside and let cool slightly.
In a bowl, add the cream cheese, parsley (save a bit for garnish), and thyme.
Add the mushroom mixture to the cream cheese and mix until combined. Season with salt and pepper.
Put the mushroom caps on a baking sheet lined with tin foil. Fill the mushroom with the filling and sprinkle the top with the breadcrumbs.
Bake in a preheated 350 degree oven for about 20 minutes. When the mushrooms are done, they will start to leak water and be hot all the way through.
Garnish the the remaining parsley.